Horos 4.0.1 for Apple Silicon
A new version is now available with the HorosCloud Plugin.
Webinar on Demand

:
How Far Can Horos go?

Listen to the discussion between Kai Rivera and Les Trachtman, as Purview discusses the best ways to maximize the potential of your Horos viewer.

Kai and Les also explore the primary tools that Horos users often like to pair or use in addition to Horos for greater functionality. They cover the features, pros, cons, and other major differences between various tools like Horos, Osirix, Purview Lite™, Purview Image™, and other solutions.

Click "LEARN MORE" to watch the webinar or walk through a self guided demo of the Purview solution.

LEARN MORE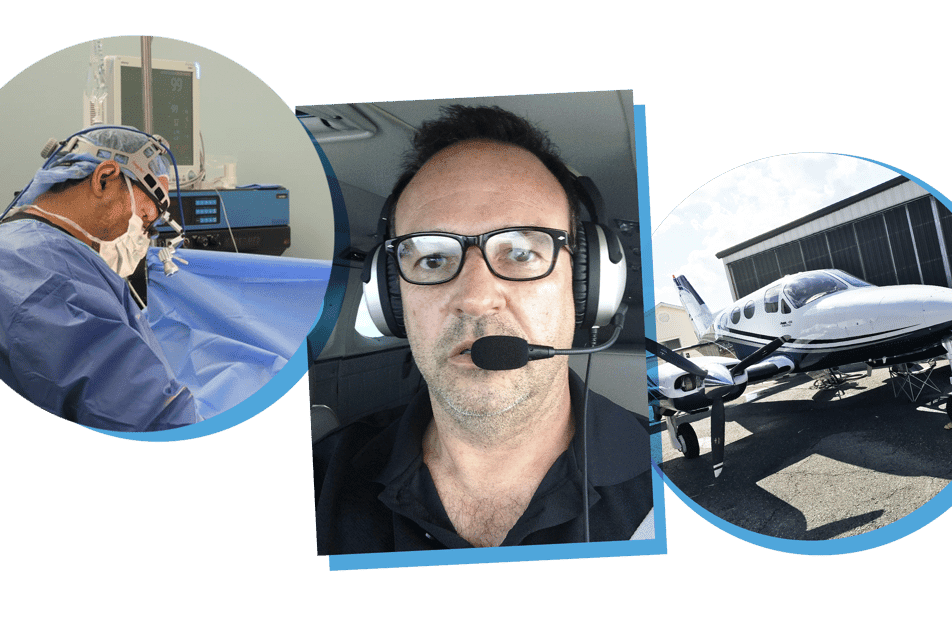 Featured Story:


How One Surgeon
Works On-The-Go
Dr. Stephen James is a traveling orthopedic surgeon with a sub-specialty in spine surgery. He's also a professor, a medical device inventor, and happens to be his own pilot.

Treating patients ranging from age sixteen to eighty who suffer from a mix of degenerative conditions and injuries, Dr. James flies across the southeastern United States to see patients at different surgery centers.

In an upcoming fireside chat hosted by Kai Rivera of Purview, orthopedic surgeon, Dr. Stephen James, will share his story of working on-the-go.

This webinar will be recorded asynchronously on April 18th, and made available shortly thereafter! Register to get access!
LEARN MORE
Horos Reporting & Sharing is Back!
SIMPLE PROCESS
Easily and quickly share studies with specific recipients from within your Horos viewer!
SECURE PLATFORM
Feel confident sharing studies through secure and compliant means!
EFFICIENT TRANSFER
Enable the recipient to download the specific study from the cloud to their viewer, rather than dealing with the slowness of sending large DICOM files over the internet
NEED SUPPORT?
Purview, the chief sponsor of Horos, offers personalized technical support services to help you get the most use and value out of Horos.
Vets Accomplish More
Using Horos & Purview Lite™
Dr. Laura Cuddy co-founded Veterinary Specialists Ireland (VSI) with her husband, Dr. Turlough McNally, in 2019 to provide exemplary advanced specialty care to small animals on the island of Ireland. Over the past few years (during the COVID-19 pandemic), they have experienced a surge in demand and in-turn, tremendous growth in staff and patient volume, while facing plenty of challenges along the way. In order to make communication and image access more efficient, VSI leveraged Purview Lite™ together with Horos, to provide a solution to their lack of central storage and remote access.

Watch as we discuss Dr. Cuddy's story of growth and success, as she and her practice learned to combine multiple technologies, including Horos and Purview Lite™, to quickly adapt to the growing demand in the veterinary market. Hosted by Kai Rivera of Purview.
LEARN MORE
DONATE TO HOROS
Please donate to help us get Horos to those on the frontlines of the COVID-19 battle.
Now more than ever we need your support.

We appreciate your voluntary donation to help sustain this important free open source solution.
This is an automated system and due to the costs of the manual administration required, please do not request that we refund your donation.

HOROS IS COMPATIBLE WITH MAC OPERATING SYSTEMS ONLY
HOW TO CONNECT HOROS WITH CLOUD ACCESS
CONNECTING MULTIPLE HOROS WORKSTATIONS
HOW TO USE HOROS IN A WINDOWS ENVIRONMENT